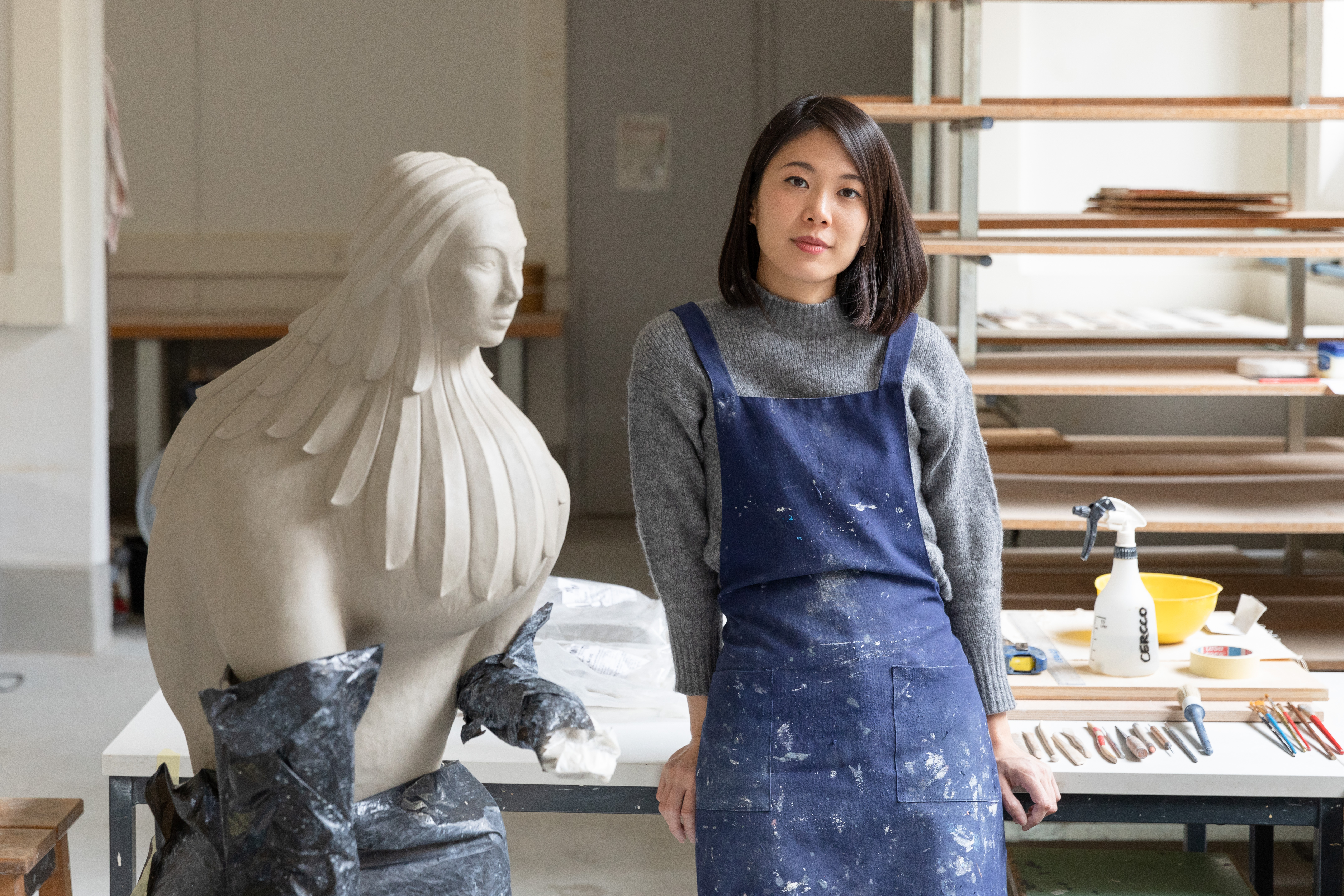 Pei-Hsuan Wang's practice is rooted in ways of engaging with her identity, much of which is shaped by the artist and her family's diasporic migration from Taiwan to the US. Folklore, family history, bio(mytho)graphical narratives and geopolitical musings are interwoven in her work, which primarily takes the form of sculpture, installation, drawing, and video.

The artist's recent projects are tributes and prayers to her kinship. Her niece Iris, a first-generation Taiwanese American, has inspired a body of work that imagines racial and cultural hybridity alongside various archetypes in nature and in myths. Animal presences become a kind of guardian and portal, giving form to the inner experience.

Wang has exhibited work at the Taipei Fine Arts Museum, Hong-Gah Museum, Taipei, and the National Gallery of Indonesia, among others. Recent solo exhibitions include Ghost Eat Mud at Kunsthal Gent, Ghent (2022), I've Left My Body to Occupy Others at Good Weather, Chicago (2020), For Iris at Gallery 456, New York (2020), and You Are My Sunshine at Taipei Contemporary Art Center (2019).
Pei-Hsuan Wang
(Lives and works in Ghent, BE)
Education
2012 MFA, Cranbrook Academy of Art—Bloomfield Hills, MI, USA
2010 BA, Macalester College—St. Paul, MN, USA
Solo Exhibitions
2023 Gratitude Is A Colored Vessel (upcoming), Ballon Rouge—Brussels, Belgium

2022 Ghost Eat Mud, Kunsthal Gent—Ghent, Belgium
2020 I've Left My Body to Occupy Others, Good Weather—Chicago, IL, USA
2020 For Iris, Gallery 456—New York, NY, USA
2019 You Are My Sunshine,Taipei Contemporary Art Center (TCAC)—Taipei, Taiwan
2018 Momentary Grace, Haiton Art—Taipei, Taiwan
2016 The Uncontainable Tale of a Paradise, Waley Art—Taipei, Taiwan
2014 Mobile Scapehood, FreeS Art Space—Taipei, Taiwan
2014 Formation No.1: On Levitation, Bamboo Curtain Studio—Taipei, Taiwan
2013 Closer to Home, North Gallery, Tainan National University of Arts—Tainan, Taiwan
Two-Person Exhibitions
2018 where we meet, with ektor garcia and Good Weather at Chicken Coop Contemporary

—Portland, OR, USA
Selected Group Exhibitions
2023 Publiek Park, curated by Jef Declercq, Anna Laganovska, Koi Persyn & Adriënne van der Werf, Publiek Park—Antwerp, Belgium
2023 Discoveries, vcrb gallery—Antwerp, Belgium
2022 A Glittering Ruin Sucked Upwards, curated by Yann Chateigné Tytelman, HISK Gosset—Brussels, Belgium
2021 Either Too Quiet or Too Loud, curated by Bo Chun Hsiao, Hong-gah Museum—Taipei, Taiwan
2021 The HISK Affair, curated by Pieter Vermeulen and Sam Steverlynck, HISK Gosset—Brussels, Belgium
2020 //////, Solid Art, curated by Hung-Fei Wu and Cheng-Tao Chen—Taoyuan, Taiwan
2019 Passage of Sinthome, Sanya Art Museum, curated by Liu Tian—Sanya, China
2019 IRL {In Real Life}, ASIA NOW Paris Asian Art Fair, curated by X Zhu-Nowell and Frankie Su—Paris, France
2019 Proyector Festival de Videoarte, curated by Zoe Yeh—Madrid, Spain
2018 Asian Art Biennale, National Gallery—Dhaka, Bangladesh
2018 Rootless Orchid, Asian Art and Culture Center, Towson University, curated by Fang Yu Lee—Baltimore, MD, USA
2016 Negative Horizon: Taiwan International Video Art Biennale, curated by Fang-Tze Hsu and Pei-Yi Lu, Hong-gah Museum—Taipei, Taiwan
2016 Ways of Clay: Jakarta Ceramics Biennale, National Gallery of Indonesia—Jakarta, Indonesia
2016 Who's Who, Audio Visual Pavilion—Seoul, South Korea
2016 Traveling within Everyday Life, Taipei Artist Village—Taipei, Taiwan
2015 The Way of Regime, Howl Space + Absolute Space, curated by Yves Chiu and Chia-Hsuan Yang—Tainan, Taiwan
Residency
2021 CERCCO, HEAD Genève—Geneva, Switzerland
2021 Higher Institute for Fine Arts (HISK)—Ghent, Belgium
2019 Rijksakademie van Beeldende Kunsten (guest resident)—Amsterdam, Netherlands
2018 Asia Culture Center—Gwangju, South Korea
2018 International Studio and Curatorial Program (ISCP)—New York, NY, USA
2016 Jatiwangi Art Factory—West Java, Indonesia
2015 Sundaymorning@ekwc—Oisterwijk

, Netherlands

2015 1a Space—Kowloon, Hong Kong
2014 Bamboo Curtain Studio—Taipei, Taiwan
Curatorial + Exhibition-Making
2020 like a luminous animal, Solid Art—Taipei, Taiwan
2013 Soul Manufacturing Corporation with Theaster Gates, Locust Prjects and the Fabric Workshop and Museum—Miami, FL and Philadelphia, PA, USA
Selected Lectures
2023 Musea Brugge—Brugge, Belgium

2022 LUCA School of Arts—Gent, Belgium
2022 University of Oregon—Eugene, OR, USA
2020 National Taiwan University of Arts—Taipei, Taiwan
2019 Lightbox Photo Library—Taipei, Taiwan
2019 ET@T Forum, Digital Art Center TW—Taipei, Taiwan
2019 Taipei Contemporary Art Center (TCAC)—Taipei, Taiwan
2018 International Studio and Curatorial Program (ISCP)—New York, NY, USA
2017 Asia Culture Center—Gwangju, South Korea
2016 Yu-Hsiu Museum of Art—Nantou, Taiwan
2016 Jatiwangi Art Factory—West Java, Indonesia
2016 Pon Ding—Taipei, Taiwan
2016 Tainan National University of the Arts—Tainan, Taiwan
2015 Hong Kong University—Hong Kong
Awards
2019 Special Jury Prize, Huayu Youth Award—China
2019 International Travel Grant, National Culture and Arts Foundation—Taiwan
2018 International Residency Grant, Ministry of Culture—Taiwan
2016 Juror's Choice Award, Taipei Arts Award—Taiwan
2016 Solo Exhibition Grant, National Culture and Arts Foundation—Taiwan
2013 Dorchester Fellowship, Theaster Gates Studio and Rebuild Foundation—Chicago, IL, USA
Bibliography
An-Katrien Callebaut, Een wirwar aan souvenirs van Oost/West, toen/nu – Pei-Hsuan Wang in Kunsthal Gent (Dutch), Metropolis M, October 30, 2022
Ghost Eat Mud by Pei-Hsuan Wang, YYYYMMDD, October 12, 2022
Senne Vanderschelden, You can see crises as end times as well as new beginnings, Subbacultcha, July, 2021
October Review, Contemporary Art Daily, August 8, 2020
Po-Wei Wang, Ambush of the Beast: Intimacy in Pei-Hsuan Wang's When Mountlake Terrace Dreams (Chinese)

,

The Affairs, May 10, 2020

Pei-Hsuan Wang at Good Weather, Contemporary Art Daily, April 18, 2020
I've Left My Body to Occupy Others, Journal, May, 2020
Shih-yu Hsu, Critic's Picks (Chinese), Art Forum China, May 2020
Nobuo Takamori, ////// (Chinese), Taishin ARTalks, May 13, 2020
Chieh-Hsiang Wu, From Mythology to the Measured World: The Intervention and Collection of Nature (Chinese), Taishin ARTalks, May 30, 2020
Yves Chunta Chiu, Nature Through the Lens (Chinese), Art Archive Center, Independent Researcher Review, Taiwan, May, 2020
Zhang Chen, A Fantastical World Imagined, World Journal, January 11, 2020
Yang Cheng Yu, For Iris at Gallery 456, The China Press, January 11, 2020
Lotte van Geijn, Cat and Bird (Dutch), KLEI Keramiek Magazine, July, 2019
Female Avatar's Futurist Statement, Taipei Contemporary Art Center (TCAC), June, 2019
ektor garcia and Pei-Hsuan Wang at Chicken Coop Contemporary organized by Good Weather, earth sciences, Aug 12, 2018
where we meet,O Fluxo, July 2018
where we meet, Journal, July 2018
where we meet, Terremoto, July 12, 2018
'where we meet' by ektor garcia and Pei-Hsuan Wang, Tzvetnik, July 2018
Emerging Creativity in Asia, APPortfolio Vol. 4, APPortfolio, February 28, 2014